Added safety for weight bearing and gait training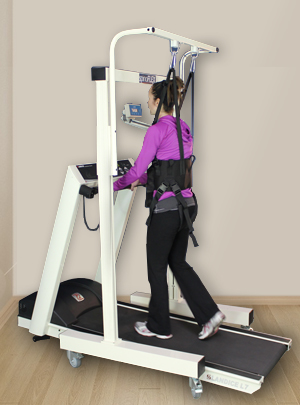 SpinoFlex systems eliminate patient falls and therapist lifting-related injuries
As the first and only adaptable body weight support system, SpinoFlex systems add safety and effectiveness to treatment for a wide range of patients. Its rugged Dual Power Column mechanism offers precise lifting speed for greater therapist control and patient comfort. The SpinoFlex system has easy-to-use, intuitive controls that require virtually no instruction.
SpinoFlex systems provide the controlled weight-bearing over extended periods of time that is essential to effective balance and posture rehabilitation. Its independently-adjustable support attachments allow patients to progress more quickly from a non-weight-bearing state to a transitional gait. This allows a bed-bound patient to transition sooner to a walker.
Before SpinoFlex systems, high cost limited unweighting systems were available to only a small number of hospitals and physical therapy clinics. But SpinoFlex systems offer an affordable unweighting system that is easily adapted to both immediate and future patient requirements.
More information on the complete line of SpinoFlex products is available here.
The state-of-the-art in gait training equipment
A SpinoFlex system can lift patients of virtually any size and weight and allows them to begin weight-bearing earlier. This leads to better outcomes and faster recovery. The easy-to-use, comfortable harness eliminates the "fear factor" that can accompany standing for the first time after injury or surgery.
Adaptablility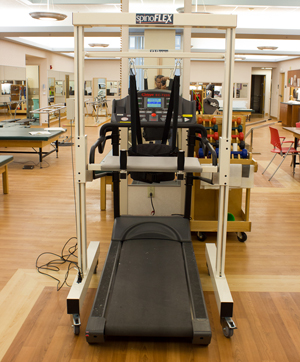 The SpinoFlex models come in different widths to fit any treadmill, wheelchairs or other complementary equipment.