More affordable rehabilitation solutions for clinics and homes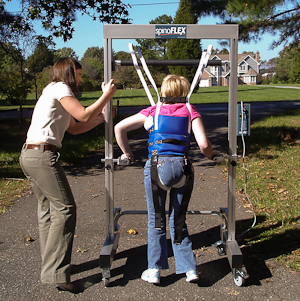 Early intervention clinically and longer rehabilitation at home.
The SpinoFlex system is the only body-weight support system found just as often in homes as in hospitals. It permits earlier clinical intervention and allows rehabilitation to continue at a high-level at home. SpinoFlex systems are the lowest-cost partial weight-bearing systems on the market. They also work as a transfer device to eliminate the need for additional and often-expensive home-rehab equipment.
A SpinoFlex system also eliminates the danger of lifting-related injury to the home healthcare worker. Its rugged design, construction, and powerful lifting mechanism let it raise almost any size user from a wheelchair or bed to a standing position. What's more, its lightweight frame and precision casters allow use over the floor or a treadmill.
Several SpinoFlex models are designed to fit through doorways. This added mobility can enhance daily activity since it allows you to walk around your home without danger of falling.
SpinoFlex systems fit over any treadmill, wheelchair, or bed. If you have specific equipment you would like to use with a SpinoFlex system, please contact us and we can affordably custom build a SpinoFlex unit to suit your needs.
More information on the complete line of SpinoFlex products is available here.
Continue stroke, spinal cord and traumatic brain injury rehab at clinic-level in the comfort of your own home.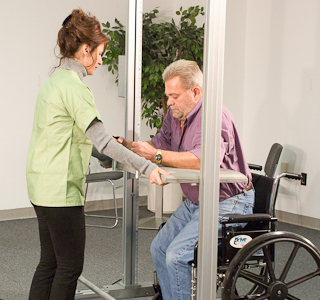 Quality of life
It's well-known that quality of life is greatly improved when daily exercise is made available to people with neuromuscular disorders such as multiple sclerosis, Parkinson's disease, cerebral palsy, and muscular dystrophy. A SpinoFlex system will comfortably lift you from a sitting to a standing position for weight-bearing practice or self-paced walking. SpinoFlex attachments allow users to control the amount and distribution of weight placed on legs.